Web content, layout and design by Terje Flaarønning.
All rights reserved.
Site updated at
14 Mar 2009 - 15:34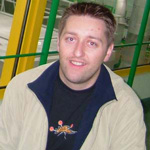 I'm a Norwegian boy born in Trondheim on the 9th of October 1973. In my first years I lived in Trondheim, then some time in Oslo, but that was all before the time I remember. Later I lived on Kattem a suburb of Trondheim through kinder garden and primary school (1st to 3rd grade at Åsheim barneskole, 4th and 5th grade at Kattem barneskole), except for the 6th grade when I lived with my mother in Surnadal and went to Øye barneskole. My mother stayed for another year in Surnadal when I moved back to Kattem to start my high school years (7th to 9th grade) at Åsheim ungdomsskole.
When I was done with the obligatory primary and high school I applied for college and was accepted at Melhus videregående skole where I did my 1st year. Nidareid videregående skole was my choice for the 2nd and 3rd year. During my college years I ran a Bulletin Board Service and because of that I came in contact with a company (CD-ROM Norge AS) which I started to work for in my spare time.
After college I wanted to join the military and finish my obligatory service there. They had no free slots before in January so I had to work for half a year. I worked for CD-ROM Norge AS and Norsk Personal. I served as a cook in the army during 1993, on my time off I still worked for the already mentioned companies.
CD-ROM Norge AS offered me a permanent job when I was finished with my obligatory military service. I still worked a little for Norsk Personal but not very much. I stayed with CD-ROM Norge AS for some years and has since been moving on in different more advanced IT and/or Telecom jobs.
Page updated at
14 Apr 2004 - 16:34